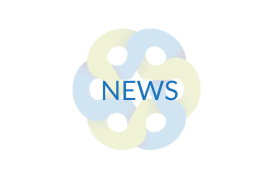 While the preferred place of work would be in our counseling offices and playrooms, Jewish Family Service of MetroWest NJ (JFS) has become creative and resourceful while working from home.
During this COVID-19 Pandemic, when in-person therapy is not possible, JFS clinicians have been working with child clients remotely, utilizing teleplay therapy.  Teleplay therapy is a form of virtual play therapy which allows children and families to maintain their relationships with their clinician and continue working on treatment goals while giving a sense of normalcy in this everchanging outside world.  We know that play is the primary tool of communication for a child, so it is important that JFS modify our therapy 'tool box' in the time of COVID-19 to incorporate play and art into our virtual sessions.  Through teleplay therapy, a child can identify and express their feelings, explore relationships, describe experiences, and build and maintain relationships with their clinician, family members and peers.
Thank you to HealthCare Foundation of New Jersey for providing the funding for play therapy supplies for clinicians to use at home.  Some of the items in our "teleplay therapy kits" include LEGOs, kinetic sand, feelings identification cards, conversation cubes, emoji balls, card games, books, breathing balls, fidget toys, & art supplies.
(Examples of how we use these items in practice):
Storytelling and reading books are great for teleplay therapy.  Clinicians can read the child a picture book and engage the child in telling a story utilizing puppets, dolls, stuffed animals, or other props within the home.  Board games and card games are also great ways to engage children in teleplay therapy.  These games can be read aloud, acted out, or played together to encourage connection, cooperation, physical activity, and laughter.  Brightly colored feelings faces and charts are other easy and great tools to use virtually.  Clinicians can hold up a feelings face and talk about a time when you felt happy, how you felt when you did something new, feelings about school, missing friends, etc.  Mindfulness and relaxation techniques are also important skills that can be taught and practiced virtually with children.   Breathing balls, bubble timers, and kinetic sand encourage soothing and calming through the act of play.
Marianne McCrone, MS, NCC, LPC, Program Coordinator, JFS Child & Adolescent Services stated: "Transitioning to teleplay therapy has been a challenge for us as clinicians, and for the children we provide therapy services for; we miss being together (face to face) in an office space. However, we are able to creatively use art, games, and toys to help our clients identify and express their feelings in a developmentally appropriate manner. As you can see from the drawing below from one of my clients – a 7yr old girl drew this when she was talking about being sad and angry and happy and seemed very confused how she could feel all of these different feelings at once.  I asked if she wanted to draw about it since she was having a hard time talking and making sense of it.  She called it 'my home of feelings'."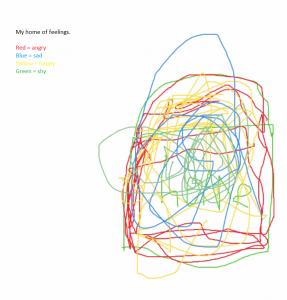 Jewish Family Service of MetroWest is a comprehensive social service agency providing mental health counseling and support services on a non-discriminatory basis.  With a presence in the community since 1861, JFS today delivers an expanding number of programs to increasing numbers of people. For children and families, JFS provides individual, couple, child and family counseling, play therapy, support groups, school and synagogue based social work services, and other assistance needed to support healthy families. Rachel Coalition, a division of JFS, provides domestic violence services for all members of the family affected by domestic violence. JFS also offers a wide range of services for older adults and their families including case management services, counseling, caregiver education, volunteer friendly visitors and specialized programs for Holocaust survivors.  For more information, please call (973) 765-9050 or visit www.jfsmetrowest.org.
###