JFS Maxine Myers Volunteer Services delivered Rosh Hashanah meals and packages to 160+ homebound older adults and Holocaust survivors in the community.
The holiday packages, which included challah, apples, honey, candy, and other treats, were generously donated by Schechner Lifson Corporation and delivered by our wonderful team of volunteers.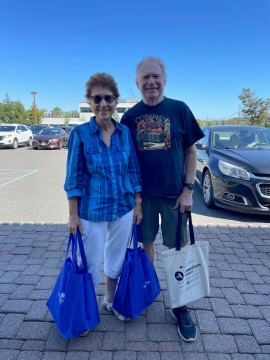 JFS MetroWest Volunteers Rickey and Bill Slezak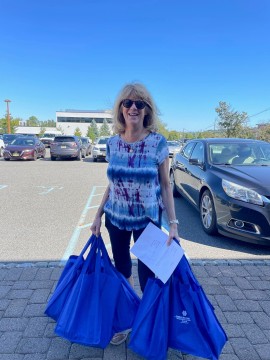 JFS MetroWest Volunteer Sandy Ross
Social services for Jewish Nazi victims have been supported by a grant from the Conference on Jewish Material Claims Against Germany. JFS has received funds from the Harry and Jeanette Weinberg Holocaust Survivor Emergency Assistance Fund, administered by the Claims Conference for the benefit of Jewish Nazi victims. Holocaust services are made possible by a grant from The JFNA Center on Holocaust Survivor Care and Institute on Aging and Trauma, Jewish Federation of Greater MetroWest NJ, Jewish Community Foundation of Greater MetroWest NJ, KAVOD SHEF in partnership with Seed the Dream Foundation, the State of New Jersey, the Wilf Family Foundation, and other generous donors.