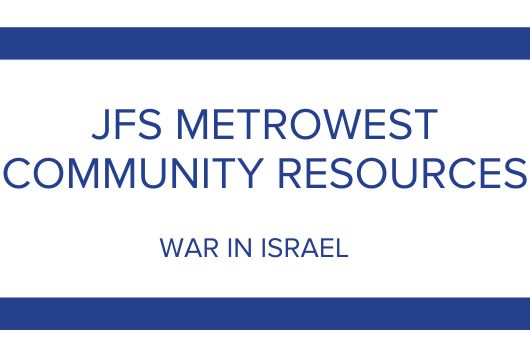 Since the Hamas terror attacks on October 7th, our community has been struggling with feelings of outrage, fear, anxiety, and worry for ourselves, and for the war in Israel. As we have been doing since 1861, JFS MetroWest is here to support you in any way we can. Through support groups, community programming, and individual therapy we have been and continue to be a resource for the community. Our staff has been working with Holocaust survivors, local schools, and synagogues to support them while they deal with trauma reactions and situational anxiety.
We are continually assessing the needs of the community and want to hear from you directly as to what you need help with to get you through the day during these unprecedented times. Please let us know how we can help you and your neighbors during this difficult time.
It is not uncommon to have deep, emotional reactions when a tragic event occurs.  The last several weeks have been deeply unsettling and scary with the horrific events taking place and Israel is at war.  Many of us have a connection to Israel and/or have friends and family there who we are worried about.  As we witness the horrors taking place in Israel through the news and social media, we try to make sense of, process, and cope with our own experiences while trying to support our loved ones.
ONLINE RESOURCES FROM JFS:
Ways to Support Yourself, Your Loved Ones, and Your Community