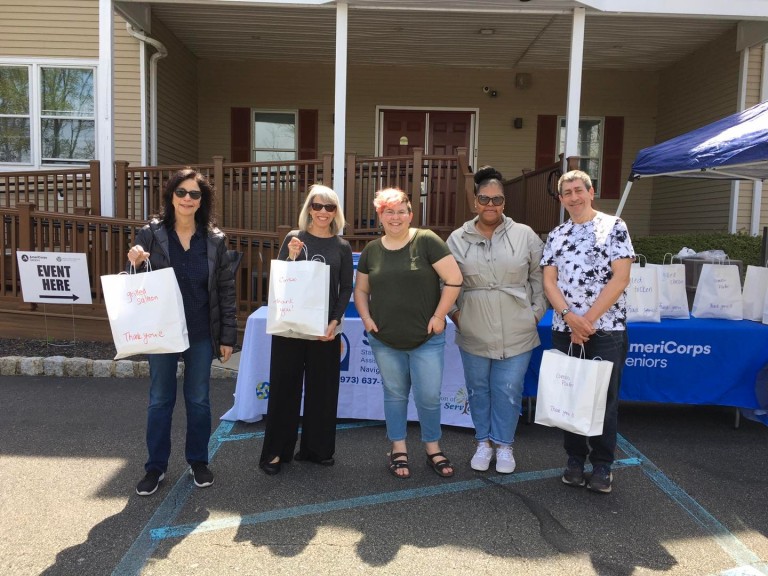 Jewish Family Service of MetroWest NJ's Volunteer Services celebrated its volunteers with its annual Volunteer Appreciation Event.  JFS staff greeted over 60 volunteers on Sunday, May 2, 2022 at its offices in Florham Park.  Boxed lunches, desserts, and thank you gifts were provided.  Volunteers could drive thru and get a meal and a gift or park and chat with JFS Volunteer Department staff.
"After another year of mostly virtual or socially distanced volunteering, it was great to see everyone in person. Our volunteers do an amazing job of supporting our clients and people in need in the community.  This event is one of many ways we can say thank you to them each year."  said Stephanie Grove, Sr. Director of Volunteer Services at JFS.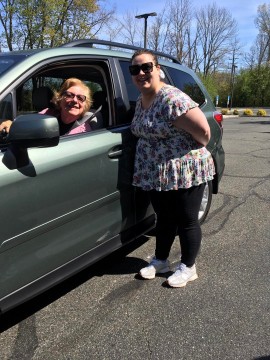 JFS Volunteer Gail Abramowitz (Montclair) and JFS Volunteer Services Coordinator Taylor Ruszczyk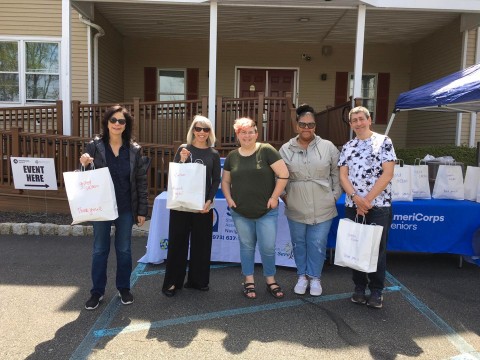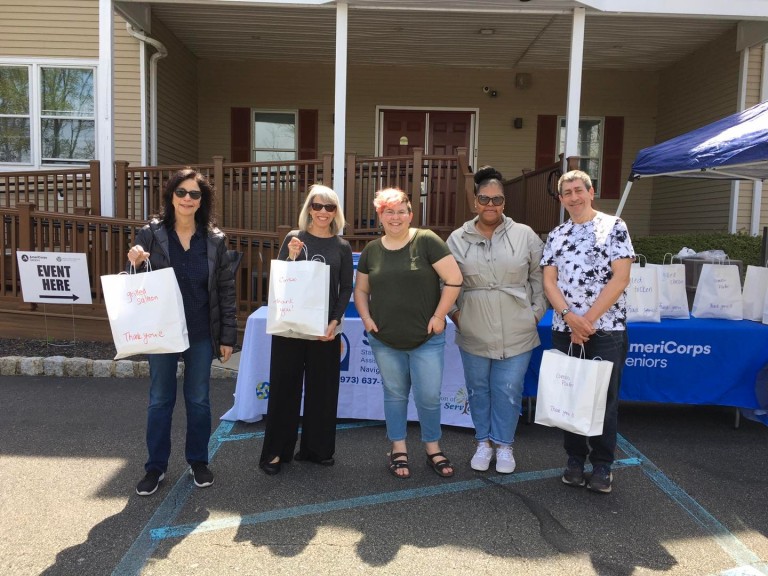 JFS Volunteer Susan Adler (West Orange), JFS Volunteer Marlene Karu (West Orange), JFS RSVP Program Manager Julie Cramer-Le, JFS SHIP Coordinator Brittany Bynum, and JFS Volunteer & Award Recipient Gary Berger (Maplewood)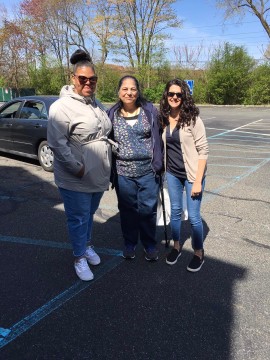 JFS SHIP Coordinator Brittany Bynum, JFS Volunteer Hemlata Shah (Belleville), JFS Volunteers Services Sr Director Stephanie Grove
In addition, Jewish Family Service of MetroWest (JFS) will hold its annual gala, An Evening of Laughter on Wednesday, June 1, 2022 outdoors at Congregation B'nai Jeshurun in Short Hills, New Jersey.   At the event, JFS will be honoring some of its volunteers as well as the legacy of Maxine Myers z"l and renaming its volunteer department the Maxine Myers JFS Volunteer Services Department.
The following are the 2022 VOLUNTEER SERVICE AWARD RECIPIENTS:
Maxine Myers z"l Volunteer Award Recipient: Stephanie Gerstein (West Orange)
Stephanie Gerstein has been a volunteer with JFS since 2015. She is a committed, warm, and devoted volunteer who actively serves in many JFS volunteer initiatives for children like Reading Buddies and Listen to Children and for older adults with Friendly Visiting and Tessie's Touch. She brings joy, connection, and warmth to all her clients, particularly those who are isolated and in need of a supportive companion. She profoundly impacts the clients she serves by always going above and beyond, often adding personal touches that foster deep, meaningful relationships with JFS clients.
COVID-19 Response Programs Award Recipient: Gary Berger (Maplewood)
During the pandemic, JFS started a meal delivery program for Holocaust survivors and other vulnerable older adults who would benefit from a socially distant weekly hot meal and check-in. Gary immediately stepped up as a volunteer. He delivers meals to clients across Morris, Essex, and Union counties. In addition to delivering meals, Gary delivered care packages of necessities to survivors when supermarket staples were most difficult to get. He is also a part of the virtual Reading Buddies program and reads weekly to students in West Orange.
Reading Buddies Award Recipient: Susan Rueda (Nutley)
Susan Rueda joined Reading Buddies in 2020, one of our most challenging years for the program. Engaging students via Zoom can be difficult, but Susan is energetic, flexible, and great with the children she reads to from Pre-K up to second grade. With her dogs, Leela and Odie, and a variety of hats for humans and canines alike, she has been an instant hit with her classrooms. In addition to two regular classes, Susan has been a last-minute substitute on multiple occasions.
Older Adult Programs Award Recipient: Paul Brownstein (Livingston)
Paul Brownstein is a dedicated Money Management volunteer who has served JFS clients over his five-year tenure in the program. He is a kind, patient, and dedicated volunteer who devotes his time and expertise to helping his senior clients remain financially independent. Paul is always willing to go above and beyond, often seeking out new ways to give back to his community.
Medicare Counseling (SHIP) Program Award Recipient: Ayne Klein-Chasid (East Hanover)
In the almost 2 years Ayne Klein-Chasid has been a SHIP counselor, she has demonstrated patience and efficiency in counseling clients in the Essex County community. Ayne has received positive feedback from clients who feel more confident and reassured in navigating the complicated Medicare process. Ayne has also taken on the new responsibility of monitoring JFS's SHIP Helpline to assign referrals of new clients to our roughly 20 SHIP counselors. Ayne has become a great addition to the Essex County SHIP, helping clients to navigate the "twists and turns of Medicare" as expressed by one of Aynes' former clients.