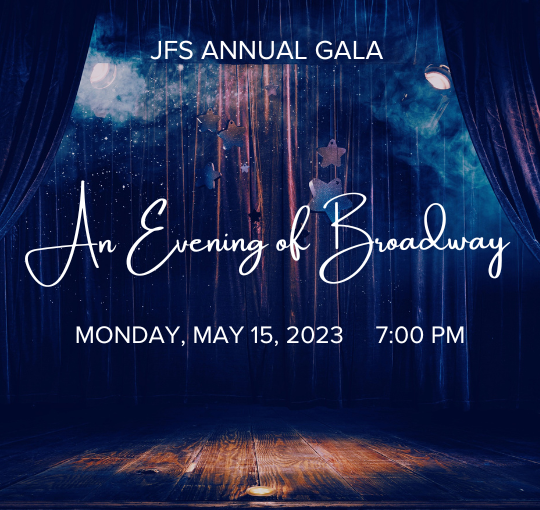 On behalf of Jewish Family Service of MetroWest NJ and our clients, thank you to all of our sponsors, donors, and guests for making this year's Annual Gala, An Evening of Broadway, our biggest one yet!
We raised over $300,000 to support our programs and services as we shined a spotlight on our Domestic Violence Legal Services.
Melanie & Alan Levitan and Joanne & Arthur Weinbach were honored for all they have done for JFS and Rachel Coalition!
Congratulations to Gail Abramowitz and Emily Bordens on their awards!
Each year, JFS hosts its annual gala as a way to escape the heaviness around us & come together as a community – this year was just what the doctor ordered thanks to Broadway Stars, Jill Abramovitz & Jackie Burns, Musical Director Lon Hoyt, and a special guest appearance by Cody Braverman!
THANK YOU TO OUR AMAZING EVENT COMMITTEE!
Event Chairs: Rachel Braverman & Jessica Gantman
Board President: Andrea G. Bier
Event Committee: Pamela Davis, Nancy Eskow, Pam Fishman, Terri Friedman, Lynn Gruber, Linda Jacobs, Lois Kaish (z"l), Merle Kalishman, Lisa Lindauer, Emily Neider, Robin Polson, Lawrence Rein, Sandi Rosenbaum, & Rachel Goodman Wilf