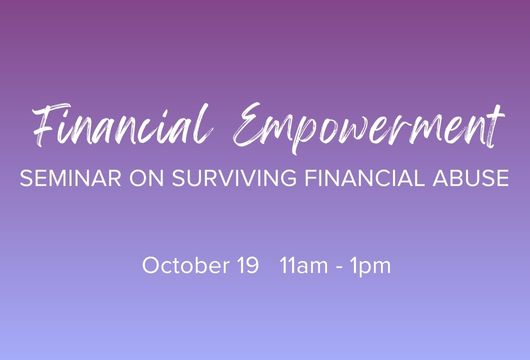 This FREE seminar is for survivors of domestic violence to learn about basic
money management. The goal is to educate and empower survivors
to understand financial abuse and take control of their finances.
SEMINAR DETAILS
DATE & TIME
Thursday, October 19, 2023       11 AM – 1 PM
Kosher lunch will be provided
LOCATION 
JFS Florham Park Office     256 Columbia Turnpike, Suite 105

FACILITATOR
Gabriela Chimento, LCSW, Clinician at JFS/Rachel Coalition
Gabriela provides outpatient mental health counseling to adults, children & families. She specializes in the field of domestic violence, having worked in shelter and community based settings. Gabriela received her certification in Violence Against Women and Children from Rutgers University and leads the Financial Empowerment Program at JFS of MetroWest.
SPECIFIC TOPICS TO BE COVERED

Defining Financial Abuse

Budgeting and Saving

Creating a Healthy Relationship with Money

Rachel Coalition provides a variety of services to assist victims of domestic violence, intimate partner violence, and individuals living in high conflict relationships.
We improve the lives of those most affected by abuse – the victims, their children, their families. Our domestic violence professionals provide guidance, support, and safe alternatives through counseling and legal services.
Domestic violence does not discriminate. It touches everyone, regardless of age, gender, race, culture, religion, socioeconomic status, or education. Domestic violence affects us all.
Rachel Coalition helps hundreds of individuals each year.
We could not do it without support from the community. Help us help others.