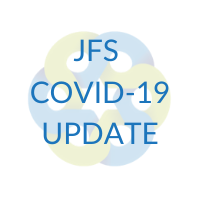 To our JFS MetroWest Community,
In these uncertain and stressful times, we are proud to be able to continue to serve and support our community as we have since 1861.
Here are some important updates:
JFS IS READY TO SERVE you and our entire community. While our physical offices are closed, we are responding to phone calls and emails and continue to provide vital services to the MetroWest community. If you or someone you care about needs help, please call us at 973-765-9050.
COUNSELING
Clinicians are in contact with all their current clients.  As we begin to navigate remote psychotherapy, Telehealth services are being utilized when appropriate. As always, our clinicians are available to all our clients and are encouraged to reach out via telephone and/or email.  Please reach out to our intake department for questions and referrals, as needed.
Our Intake Department has continued completing counseling intakes and providing imperative information and referrals to community members. Reach out to our Intake Department at info@jfsmetrowest.org or by leaving a voicemail on our main line at 973-765-9050. We will get back to you within 24 hours.
OLDER ADULT and HOLOCAUST SERVICES
We are in close contact with our older adult and Holocaust survivor clients and their caregivers.  Ongoing support is being provided by phone as an alternative to office visits and in-home visits.  Telehealth is available as needed.
We are working closely with our community partners, who provide homecare to our Holocaust survivor clients, to ensure services will continue to be provided following strict health and safety procedures.
JFS is also addressing concerns regarding social isolation and food insecurity through a dedicated group of volunteers, who are providing telephone reassurance and are able to bring groceries to older adults as needed.
DOMESTIC VIOLENCE/RACHEL COALITION
Our staff is committed to helping our clients and community stay safe. Rachel Coalition can be reached by calling 973-740-1233.  All callers are receiving responses and support by a trained domestic violence therapist.
We are maintaining regular contact with all clients by telephone check-ins and telehealth services when available and appropriate.  We continue to encourage our clients to prioritize safety and are checking in to ensure our clients are as physically and emotionally safe as possible.  Support groups will be able to restart virtually in the near future.
The Rachel Coalition Legal department continues to work with clients on restraining order matters and consultations over the phone.  Our office can be reached at 973-746-2131 and all calls will be returned in a timely basis.  We continue to keep apprised of NJ court status and have regular communication with clients on the status of their hearings and motions.
DISABILITY SERVICES
The health and safety of the individuals we service remains our biggest priority. We are available via phone, email and video conferencing if needed.
Although we are unable to meet face to face, we will continue to be available for any concerns or emotional support you might need. We will continue to update the Individualized Service Plan (ISP) if an individual's usual supports need changing.
The Division of Developmental Disabilities has established a help desk for questions related to closures and DDD's response to COVID-19 DDD – COVID-19@dhs.nj.gov.  Please do not submit health-related questions to this help desk, including questions about COVID-19 testing, treatment, etc. For health-related questions and concerns, please contact a health care professional or call 911.
For assistance with Coordinated Care of Metrowest, please call Danielle Weiss at 201.602.6312.
VOLUNTEER
All in person volunteering has been suspended at this time to ensure the safety of our volunteers and clients.  We are evaluating all of our programs to see which ones have the necessary infrastructure for volunteers to serve from home.  Volunteers already screened/trained and serving in these programs will be asked to assist.
At this point, we are not placing new volunteers.  If you are interested in volunteering, however, let us know and we will contact you when we need assistance.
For all volunteers who have been screened and are currently placed as a volunteer through JFS and/or RSVP, we are offering opportunities to:
Make phone calls to isolated homebound seniors
Deliver groceries, prescriptions, and/or Passover Care packages to Holocaust survivors and isolated, frail seniors in the community
For volunteers ages 55+, contact Stephanie Grove at 973-637-1766 or sgrove@jfsmetrowest.org.  For all other volunteers, call Suzy Berman at 973-637-1747 or sberman@jfsmetrowest.org.  If calling, please leave a message and we will return from a blocked number as our physical offices are closed.
HEBREW FREE LOAN OF NEW JERSEY
Hebrew Free Loan of New Jersey (HFLNJ) will provide INTEREST FREE loans to support individuals and small businesses with financial challenges caused by the Coronavirus outbreak.  Our mission continues to be the same since the 1800's: to provide interest free loans to members of the community to help them meet their financial needs with dignity.
In our Coronavirus Financial Impact Program, HFLNJ will provide interest free loans up to $3600 to Jewish residents of Bergen, Essex, Hudson, Middlesex, Monmouth, Morris, Passaic, Sussex, and Union counties for:
Emergency needs due to lost wages
Small business owner needs
Child care costs due to closures of school
Medical costs
Email MRatzker@jfsmetrowest.org to start the process. For residents of Bergen and Passaic counties, please call 201-791-8395.
HFLNJ loans are funded entirely by community donations.  If you would like to contribute as we anticipate the need to be greater than ever, please visit our website at hebrewfreeloanofnj.org.
SHIP MEDICARE ASSISTANCE
The State Health Insurance Assistance Program (SHIP) provides free help to Essex County Medicare beneficiaries who have problems with, or questions about their health insurance. Medicare beneficiaries frequently have questions about benefits, claims and supplement policies such as Medigaps or Medicare Advantage. Staff and volunteer counselors, trained in areas of health insurance coverage and benefits, provide information and assistance for dealing with claims and in evaluating health insurance options.  We can also screen Medicare beneficiaries for help paying for prescriptions or Medicare premiums.
Call our SHIP Helpline for at 973-637-1717.  Our physical office is currently closed, but staff and volunteer SHIP Counselors will be checking messages and returning calls during normal business hours.  You may receive a return call from a blocked number, please make sure your phone receives calls from blocked numbers.  You can also reach us at medicarehelp@jfsmetrowest.org.
HOW YOU CAN HELP
Your support and donations are needed even more during this time. You can donate securely via www.jfsmetrowest.org/donate.
Please feel free to email us with any questions you might have and follow us on Facebook for current updates or check our website at jfsmetrowest.org.  Our goal is to keep you as informed as possible.
Governor Murphy and his team shared that people looking for additional information can get state text notifications by texting
Text NJCOVID to 898-211
If you need live assistance:  Text your zip code to 898-211
For an overview of all programs of The Department of Human Services during this critical time, click  https://www.state.nj.us/humanservices/