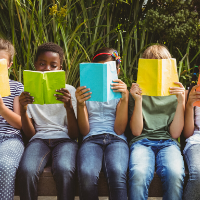 The RSVP Center of Essex and Hudson Counties, a program of JFS MetroWest, was the recipient of Barnes & Noble Livingston's annual Holiday Book Drive this past December.  More than 1800 books were donated to benefit RSVP's Reading Buddies program, which matches older adult volunteers with elementary school students to improve reading comprehension skills.
"We are so lucky to be a part of such a generous and caring community.  On behalf of Jewish Family Service of MetroWest and its RSVP Reading Buddies program, please accept our sincere appreciation for Barnes & Noble's thoughtful donation of children's books to the program. Our Reading Buddies staff is grateful and delighted. These books will help to instill a love of reading in the children served by our program."  Diane K Squadron, JFS CEO stated.
"The Holiday Book Drive is a favorite program of both booksellers and customers across the country," says Tracy Vidakovich, Vice President, Business Development for Barnes & Noble.  "Customers often purchase and donate a personal childhood favorite as a way to pass on a holiday tradition to a child in their local community."
Reading Buddies introduces the love of books and increases literacy in young children. Early literacy is linked with academic achievement, higher graduation rates and enhanced productivity in adult life. Julie Cramer, RSVP Program Manager, comments, "Reading Buddies is a unique program that connects children and volunteers through books. The older adults read to the children every week throughout the school year, forming a warm relationship based on the love of reading."  The program has shown to be very effective in helping to increase literacy, reading comprehension, and vocabulary in children grades K-2.
The RSVP Center for Essex and Hudson Counties is a program of Jewish Family Service of MetroWest NJ.  It is funded by the Corporation for National and Community Service (CNCS) as part of Senior Corps.  RSVP, established in 1971, is one of the largest volunteer networks in the nation for people 55 and over with 200,000 volunteers across the nation.  RSVP taps the rich experience, skills and talents of adults age 55+ to meet the needs and challenges of local communities all across America by placing volunteers in local agencies.
Jewish Family Service of MetroWest is a comprehensive social service agency providing mental health counseling and support services on a non-discriminatory basis.  With a presence in the community since 1861, JFS today delivers an expanding number of programs to increasing numbers of people. For children and families, JFS provides individual, couple, child and family counseling, play therapy, support groups, school and synagogue based social work services, and other assistance needed to support healthy families. Rachel Coalition, a division of JFS, provides domestic violence services for all members of the family affected by domestic violence. JFS also offers a wide range of services for older adults and their families including case management services, counseling, caregiver education, volunteer friendly visitors and specialized programs for Holocaust survivors.  For more information, please call (973) 765-9050 or visit www.jfsmetrowest.org.